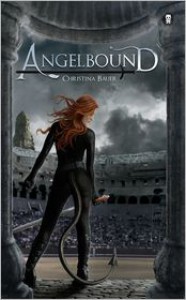 WHAT I LIKED

1. The Arena. The idea reminded me a little of shonen anime series like Yu Yu Hakusho and Flame of Recca where each episode centers on a member of the cocky hero's crew battles with a gruesome demon in a tournament that seeds its warriors, much like in a tennis match. The Arena battles, unfortunately, were few, figuring in the plot only at the beginning, and since they are designed to decide a soul's fate, singular. Battles and duels eventually figured in the story under different circumstances and I found myself enjoying those better than the actual plot this was trying to sell.

2. The Creatures. The imagination behind the various demons and creatures populating Purgatory was very rich and rightfully deserves, maybe even needs, a companion book cataloguing their abilities, their weaknesses, classifications, methods of killing them and origins. And perhaps a separate companion piece detailing the history of the angels, thrax, quasis, ghouls and demons. Because the interbreeding of these species and their resulting phenotypes were quite confusing at certain stretches. So yes, A Fantastic Beasts and Where to Find Themand a (Not) Hogwarts: A History would probably make me want to revisit Bauer's imagination.

WHAT DIDN'T WORK FOR ME

1. The Rambling Narrative. The actual point to the story starts right around the halfway mark I think. Before that, there was a whole lot of annoying nothing going on. And I suppose this was just trying to cover EVERYTHING. But when it didn't, it started to randomly bust out convenient plot points to make a generic scene 200-pages ago seem like it was foreshadowing into something. The Awakening of the Heir Scala was just rife with plot holes that got patched up rather sloppily towards the end. I hate plot twists of convenience, and while I've seen where Myla's character was heading early on, I found the execution to get her from point A to point B forced and inorganic.

2. ADD World Building I like intricate world building, I do. But what I don't like is the endless piling up of details. For example, creature A gets injured during a fight right around the 75% mark. The author suddenly reveals he's descended from a race that heals themselves. I wouldn't have minded this tidbit of information if it impacts the bigger plot, but no, this was added in there at that most opportune time as if an afterthought. At a point when the plot should be reaping what it sowed in the earlier chapters, this just kept on sowing its way down to the climax.

3. MYLA.
"I'm not like everyone else and I don't want to be like everyone else."

Thank fuck.

I can see how other readers might like her for being snarky and kickass but I always have trouble with this kind of heroines when the story is told from their perspective (I started to substitute her "I's" with "Her's" or "She's" and found it a massive improvement.

Reading her thoughts and actions just makes me wince: I'm supposed to like Myla because instead of wanting to dress up and do girly things, she likes wearing fighting suits and has an encyclopaedic knowledge of demons and how to kill them. She has no interest in boys (up to a certain point), she takes care of herself and defies the oppressive and misogynistic environment she survives in by sticking out her tongue on authority figures, giving them the finger and releasing mischief demons on the guests of stiff royal parties.

And she's 18.

Granted, this is purgatory and she's not human, it was still quite difficult for me to like her interpretation of a strong heroine. It's so much easier to communicate a heroine's strength by wielding cool weapons and making idiots out of the men around her. The challenge lies on making her outsmart the conventions and bend it to her will while wearing lipstick, pearls and high heels.
Panic rips through me. Sitting next to a bunch of girly-girls for who-knows-how long? I've lived this nightmare a few times at school. They'll want to talk about stuff like eyelash extensions, panty liners and cuticle cream. It's torture.

The underhanded message of kicking ass is good and is contrary with embracing one's femininity just rubbed me the wrong way as it often does with these kinds of heroines.
I suppose I was meant to take her with a grain of humour but I didn't find her funny at all. Her humour lacked elegance in its delivery and came across desperate. And every time she complains about her mom's overprotectiveness when she still gets to do what she wants ANYWAY, I wanted to slap the whining out of her.

There was no point to this character that would make a reader sympathise with her. I mean, she's PERFECT. She's always right. She wins all her battles. She solves EVERYONE'S problems. Her imperfection is that she's too curvy. And she has a temper because she's a redhead. Yeah I can sympathise with THAT. *EYEROLL*

4. The characters are too simplistic. Every character who pisses Myla off is an idiot, an incapable nitwit, or beyond-redemption evil while every character she likes is kind, brave and smart.

5. The lack of swoon.
Myla and Lincoln... partners in crime on a new mission to rain trouble onto tight-assed thrax everywhere. Yay.

The romance was meh for me, mostly because I don't find square jaws, heterochromia, full lips and scooped out cheeks attractive. I think someone was watching Dear John when Lincoln was imagined. I'm sorry but the only time I find Channing Tatum attractive is when he's a stripper or when he's being funny. I do appreciate the lack of insta-love and mushiness from both characters down the line.

6. Confusing maturity of the story. I'm really confused if I should label this as YA, because this had some of the usual elements of YA-PNR… but there was also some humping going on. Myla behaved like a 15 year old but with the sexual libido of someone from a NACR book. No, not the billionaire ones, the biker ones. Again the premise of her character being a quasi demon sporting serious wrath and lust excuses this I suppose, but it was still a bit awkward for me.

7. Loopy Sleeves. EVERYONE was wearing something with loopy sleeves at any given scene in the story. What gives?

Overall, I think it all boiled down to my personal quirks that led me to enjoy this less than I expected. I had such high hopes for this one that I requested the second book's galley even before I finished reading this. A pity that Scala will probably be pushed way way behind my TBR list now.